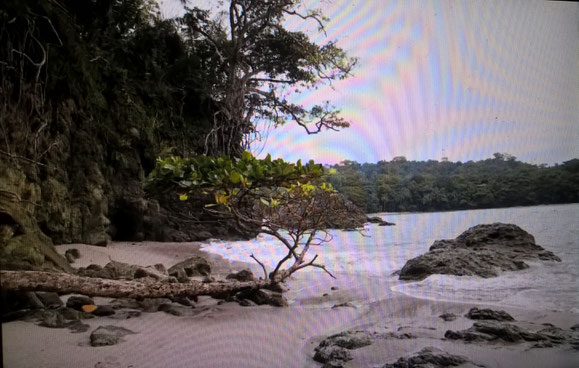 There's so much to write but so little time to do it. 
First of all a report about Manuel Antonio, a National Park with beautiful beaches and impressive wildlife. The reserve is located on the Pacific Coast and one hour away from Uvita. To reach this beautiful place we had to travel 5 hours by bus (180km).  
The National Park Manuel Antonio was founded in 1972 and is one of the smallest National Parks in Costa Rica but the second most visited. Size doesn't matter! The "Forbes" magazine listed the park in 2011 as one of the 12 most beautiful National Parks in the world!
About 109 mammal and 184 bird species were spotted in the reserve. It is even possible to observe dolphins or migrating wales on the coast.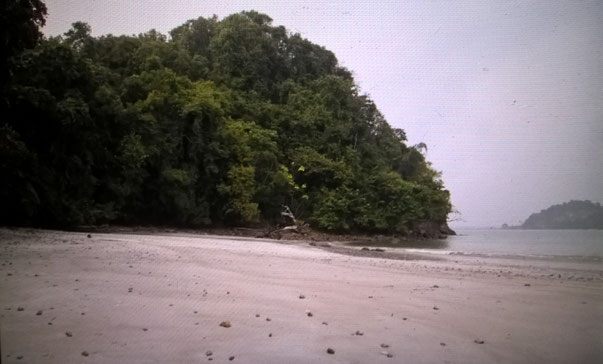 The first day we couldn't wait to walk down to Playa Biesanz. As it's the second time Laura visited this place she knew where the best beaches are.
After a 3km downhill walk we arrived at the beautiful  and almost empty beach. Unfortunately it started raining some minutes after we arrived. As it's the end of the rainy season this can happen. 
However in the evening we went to the Hummus Bar, a really good restaurant which I can recommend. Delicious falafel, hummus and kebab!
Check the link button below.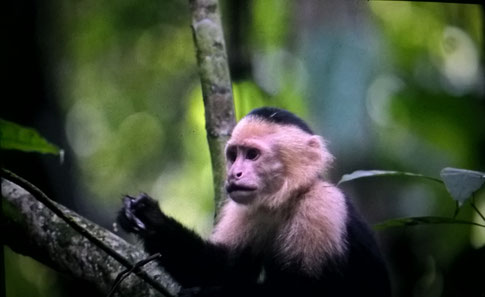 Beside the tasty food we met Gal Y., an Israeli guy who has been working and living in Manuel Antonio since some months. He helped us out with insider tips for our trip to the National Park Manuel Antonio. 
The next day we started early at 7 am. The park entrance fee is 16$ As we arrived at the park, local guides were waiting for the tourists to offer tours in the park which is, in my opinion, unnecessary. The hiking trails are well marked, easy to walk and if you open your eyes just a bit you don't need a guide to show you all the animals in the forest. You may not see every insect on the leaves or every lizard in the trees but you will see enough by you own.
Furthermore you can't miss the big animals! Wherever a sloth sleeps or monkeys jump in trees, there's a group of people stopping on the trail to observe them. Impossible to oversee! 
We hiked for some hours in the park, saw three different species of Monkeys (White-fronted Capuchin (Cebus albifrons), Mantled Howler (Alouatta palliata), Central American Squirrel Monkey (Saimiri oerstedii)) and other animals. The last hours were spent on an empty beach. We found the perfect place which was bit further away from the main touristic beach.
We only had to share the place with some hermit crabs and leguans. Perfect place to switch of for some hours!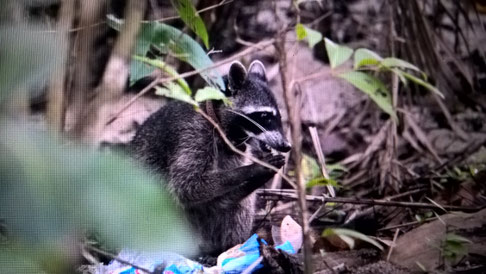 Why isn't it allowed to bring food to the National Park Manuel Antonio?
According to the park ranger in the office, they collect more than 8 000 aluminium bags of cookies, chips and other kind of food in the park each year.
Racoons (Procyon lotor) find about 80% of these bags and eat the leftovers. The racoons also specialized themselves in opening backpacks with zippers and work in groups to steal food from tourists.
I witnessed both. The only racoons we saw were stealing food from backpacks and ate the leftovers from a chips bag.
Another problem is that people feed wild animal like raccons, agutis, monkeys, birds and coatis only to get the perfect photo or selfie with them. The wild animals are reacting to this feeding with habituation and lose their natural fear of humans. They start to associate humans to food. During the last years, several racoons died in the reserve because of the wrong diet, especially because they ate sweets.
To stop this problem the park rangers started controlling people and forbidding any kind of food. Furthermore they started to work with GPS transmitters. Racoons with transmitters can now be located and observed in the areas frequented by visitors. Unfortunately this work by a Mexican master student for wildlife management is still in progress  and not yet available to read.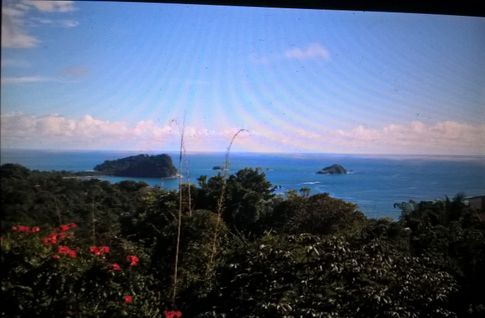 The last day we were a bit worried because the rain didn't stop in the morning. Nevertheless it did stop after 10am and we went downhill again to the lovely beach we visited the first day.
There were more people this time and we had to look around to find some free spots. It was Sunday, good weather and tourist as well as locals run to the beach.
But we had good morning and good lunch with a beautiful view before we started to travel back to Heredia. 
---
Birds are everywhere in Manuel Antonio.
Next to the coast you can observe hunting peregrine falcons, migrating sandpipers, gliding fregatebirds, fishing pelicans and terns. In the National Park are several species of Antbirds, Antwrens, Antthrushes and Antshrikes. In the midstory Trogons, Motmots, Warblers and Woodcreppers are calling. High in Canopy you can observe different species of Toucans, Parrots, Macaws, Swallows and Swifts which are flying around. 
--- Sorry, because of storage problems on my site, I had to delete those photos. -----
--- I'll upload the photos in a better quality after my trip. ---
Same but different report of the same place