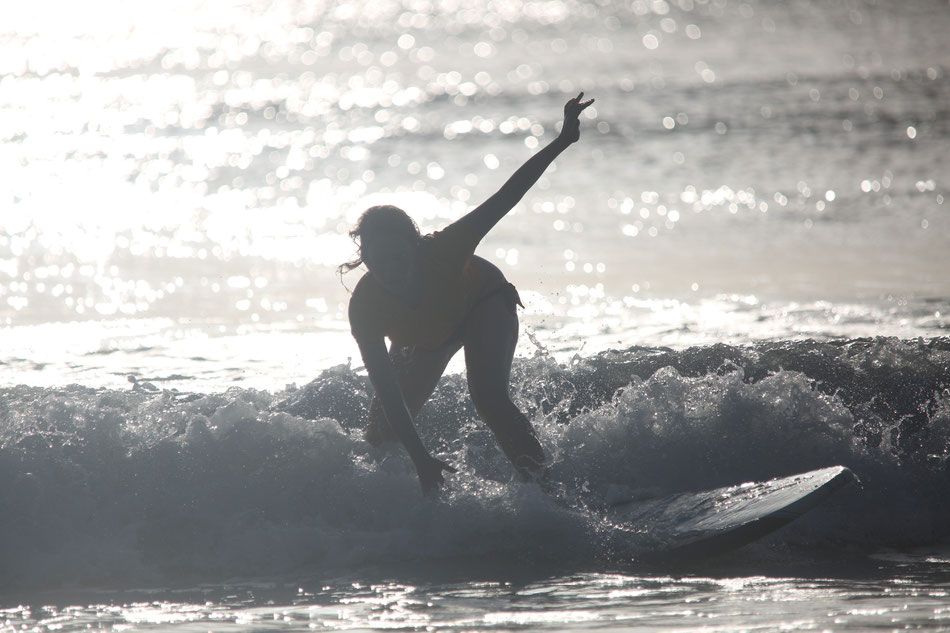 Travelling from the Caribbean Sea to the Pacific is very easy in Panamá. The country is slim and travelling with the minibuses isn't complicated.  
The last few days we focused us on our surfing skills. We surfed at two different places, Santa Catalina and Playa Venao. Both have perfect conditions for good waves.  
The last destination was in Pedasí, where we enjoyed the beach, discovered the beautiful village with all the colorful buildings and celebrated Christmas with locals on the street of Panamá. 
Santa Catalina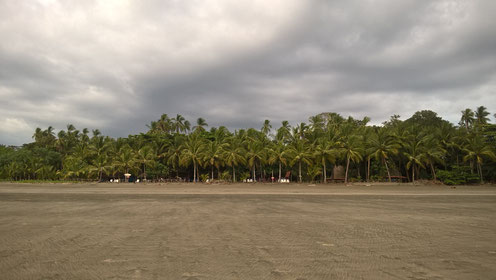 After we started surfing in Bocas del Toro we were motivated to try it again.  
Therefore we put Santa Catalina, a little fisher village in southern Panama with good surfing spots for professionals and beginners, on our travel list. The surfing bay for beginners is at a huge flat beach which has perfect waves to train. 
Besides surfing, many travellers come here for scuba diving next to the island Coiba. Santa Catalina is preparing itself for more tourism. New hostels and restaurants are built, even if there is still not the expected amount of tourists in the village.  
We were for 3 nights in the hostel "Las Hamacas", a new hostel which opened this October. Our room was a little bungalow with kitchen, bathroom and bedroom. As the hostel is new, some things still didn't work well. We had problems with the gas in the kitchen and used another stove in the bungalow next to ours. The internet router was the phone hotspot of the owner which was, obviously, not working very well. 
Playa Venao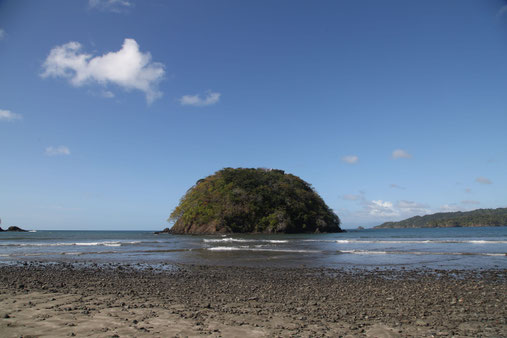 After a long travel with several minibuses which we had to change in Soná, Santiago, Chitre, Las Tablas and Pedasí, we finally arrived at Playa Venao, located in the Los Santos Province. It was a total of 9 hours for only 270km. 
We stayed in a hostel close to the beach. Our first room was moldy which isn't surprising with the high humidity and almost no aeration next to the beach. Therefore we changed to another room one floor higher, which was a bit better. Compared to the room in Santa Catalina, which was almost the same price, the room was tiny. There was just enough space for one bunk bed and a small "shelf". A small kitchen and toilets were outside and to share. One of the showers had hot water and a table tennis table was ready to play.
Besides a tasty Israeli restaurant, there is not a lot in this building zone. There is only one tiny supermarket which is totally overpriced. To shop cheaper and with more choice, it's better to hitchhike to the city Pedasí or Cañas. 
Playa Venao is changing a lot. As we arrived, we already saw some of the plans of the big investors in Playa Venao. There are huge buildings of luxurious hostels and plenty big bungalows being built almost everywhere.
Interesting fact: The whole beach is or was under nature protection because sea turtles are using this beach for breeding. On several walks on the beach we found some turtle eggs. 
Actually we had planned to help out as volunteers at a conservation organisation which is taking care of breeding sea turtles in this region. Unfortunately they didn't take any volunteers over Christmas and only people who are willing to stay longer than a week. Therefore we had to change our plan.  
Fortunately, somewhere in the pacific, there was a storm which brought good waves to Playa Venao. The beach with black sand is very flat and forms very good waves in the bay.  The waves were between 0,6 and 1,1 meters high. Some were really powerful and made it quite difficult to surf. However, Laura managed to stand up and I'm proud she did it! 
Pedasí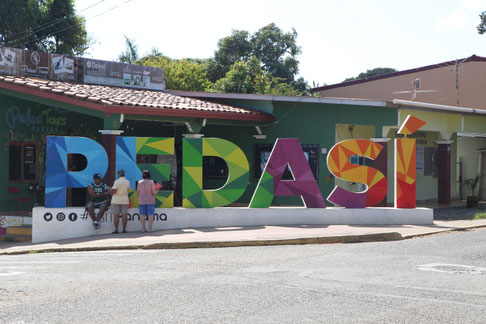 Our last destination on the peninsula Azuero was Pedasí, a beautiful and colourful village, 30km away from Playa Venao. We stayed in a lovely hostel of an Panamanian woman. The breakfast was included and the hostel is located in the middle of the city. Strangely, we were the only guests in the hostel. 
The village Pedasí is very beautiful. Next to the main street, all the buildings are dyed in diverse colors or have big beautiful graffitis. Six residents of Pedasí decided to color their village some months ago. Now the village is really pretty and worth the visit. 
The beaches El Toro and La Garita are just two kilometers away from Pedasí. We visited the Playa Destilarderos, which is 10 kilometers further away and an insider tip of a friendly Panamanian woman from Chitré. Besides some rich people who built big houses on the rocks over the beach, it's almost empty. The beach is huge and besides several big black patches very beautiful. To go there, we rented two bicycles in the towncenter of Pedasí. 
How did we celebrate Christmas in Panamá?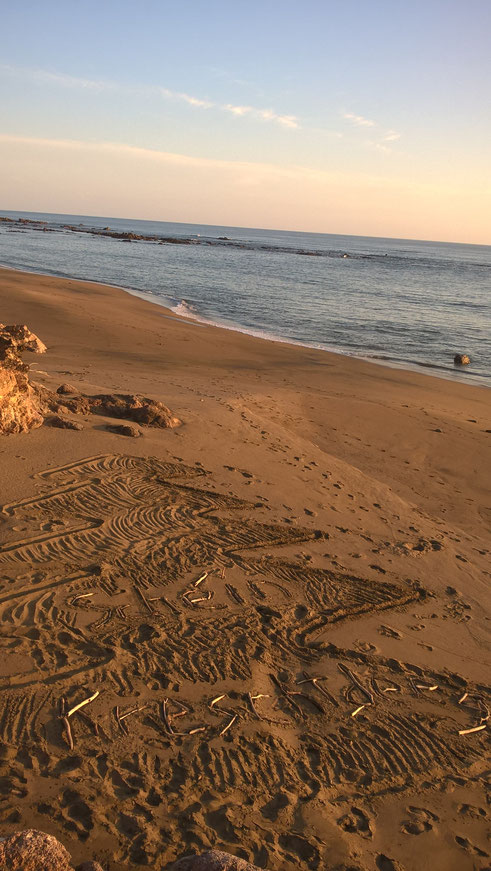 Actually our plan for Christmas, far away from family and friends, was to cook a tasty lasagne and have an relaxing evening together. Anyway our plans changed.  
As we brought back the bicycles, the owner asked us to join their Christmas party. First, it was strange for us that someone who didn't know us invites us to join them for Christmas. In Europe nobody would invite someone for Christmas who isn't part of the family or a good friend. Besides some smalltalk and two times renting a bicycle, we had never talked to him.  
We were really surprised and of course we accepted the invitation. We had no idea what would come and were really excited to see how they celebrate Christmas in Panama.
It's definitely different than Europe! 
Unfortunately, we had already bought everything for our tasty lasagne. We tried to cook it as fast as possible to get ready and to join the party on the street. As we arrived, he welcomed us very nicely, introduced us to everyone of the family and friends and offered us drinks. Every house had its own little party on the street with loud music, of course spanish, and a huge variety of food. 
After a while, we went to another house on the other side of the street to meet more family members and friends. They all welcomed us, showed us their house and talked with us about several topics, eventhough they didn't know us and the fact that we aren't from Panama. One of the house "mamas" showed us their kitchen and the food they had prepared. She told us that they had used about 5kg of rice, a big piece of ham, a whole turkey, ceviche of pork, fish and shrimps and plenty of self produced fruits. Literally everyone who was hungry could go in and get some of the food. 
At midnight everyone went crazy and started to fire plenty of fireworks. Everyone walked around on the street and hugged, kissed or shook hands to wish eachother "feliz navidad".  
Summary
I never have experienced such an heartwarming event like this year's Christmas! I don't know if it is only in Panama that they celebrate like this, but they really understood the meaning of Christmas - sharing with everyone and ignoring political and personal borders!
In a world like ours, this was very important to see! 
The other days in Santa Catalina and Playa Venao were nice too!
It was cool to stand on the board again and to ride on the waves. Some of the waves were really huge and powerful but it was really fun.
I'm proud Laura didn't give up and tried until she stood on the board.
I'm already excited for the next surfing time, maybe in Colombia! 
The feeling that the tourism is overrunning the small villages Santa Catalina and Playa Venao is very strong and sad at the same time.
Everywhere were building sites for new luxurious hotels.
In some years, everything will have changed and there may be a similar situation as in Bocas del Toro.
Unfortunately, the nature or places under protection get lost when the big investors arrive. It's good to see that this future isn't coming to Pedasí and this beautiful city with the amazing people will stay like it is. 
Pedasí was really one of the highlights in Panamá. 
It is also interesting to see how our rooms in hostels change, even if we stay always in the same price category. 
---
Birding next to the beach or in pasture landscape isn't that interesting. Sometimes shorebirds were around the water, but most of the time it was the Spotted Sandpiper. In several fields there were parrots sitting in the trees and I spotted an interesting tiny hummingbird who fed on flowers of grass. 
During the trips to our destinations I spotted some raptors in the sky or on poles, but it was impossible to identify or take pictures during the drive. We crossed a waste dump with hundreds of vultures flying around.
Same same but different view