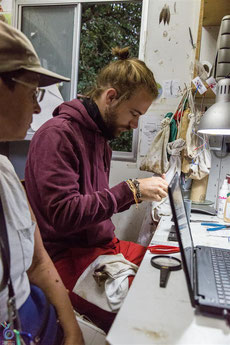 During the last months of summer semester 2019 I had a quiet sustained time with exams that didn't allow me to do anything else than studying. However, in July the university was finally finish! So the summer break started and I was looking to do something. I chose to do my favorite hobby: birds!
After some free weeks in July I started to help at the birdringing station Schlammwiss, a nature reserve located in Übersyren, Luxembourg where I regularly post a resume of each month and coordinated the Facebook page since 2011.
My "job" there? Basically catching birds.
But how and why? We're catching birds in mistnets in trails inside of the reed banks with the help of sounds. Like this we can catch over hundreds each day in order to see how many birds are migrating through the reeds of Luxembourg and which species. In addition we have several projects there.
I really love to be at this time at this nature reserve. You never know what you may have in the net. But this year we had though luck. Although we caught a lot of birds during the months August and September, we couln't catch any rarity. Nevertherless, I enjoyed the the ringing and was able to refresh my knowledge!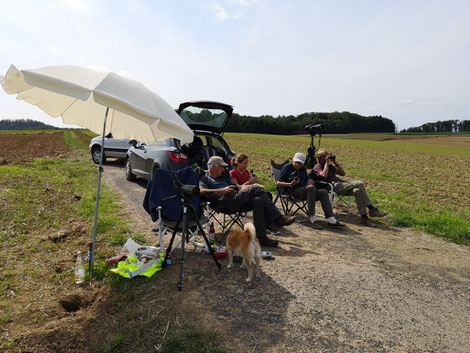 Furthermore I had a summer job by the exerienced ornithologist Norb Paler at the Sëller Héicht, a migratory watch point in the middle of the field at Saeul, Luxembourg. 
I started every day at 8-9 in the morning and first checked the fields around for roosting birds like Wheatears (Oenanthe sp.), Whinchats (Saxicola rubetra), Pipits (Anthus sp.) or any shorebirds. After that, I installed my chair, parasol and spotting scope and waited for migrating birds coming from N-NE. There have been some interesting days with over 300 Honeybussards (Pernis apivorus) or over 60 Whitestorks (Ciconia ciconia) migrating with Harriers (Circus sp.), Black Storks (Ciconia nigra), Kites (Milvus sp.), Sparrowhawk (Accipiter nisus) and Falcons (Falco sp.)