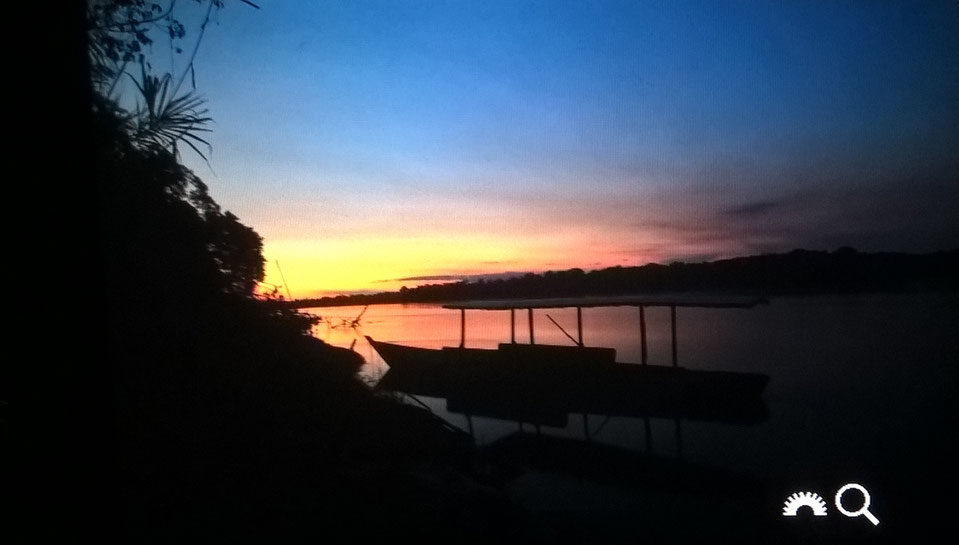 So I'm back in town again and this time I have some photos to show! Not the best quality because I took a picture with my phone from the display of my camera buuuut better than nothing! I'm still sorry for the bad photos... I'll try to improve it!!
After a cold start in the week the temperature rised up. In the last days it was so hot, when you want to take a nap during midday you're sweating more than during the work.. I'm so happy to be in town right now and have an air conditioner in my room. Now with the hot temperature and after the work I really appreciate the cold shower in Taricaya! 
So what did we do this week? In total it seems to me it was less (or same) than the week before but this week passed faster away.  
The activities in Taricaya were same as usual. Feeding the animal, searching food/fruits for the animals, cleaning the animals and building new cages.  
A group of volunteers went with Raul in the jungle to check for the Spider Monkeys. They told me they found all back and photographed some female Spider Monkeys with babies. 
What else to say?
During one night, I was sleeping really deep, a heavy noise woke me up. I had no idea what it can and expected that a tree is falling down. So I stayed awake for 30min in my bed and waited that it's falling down in my room any moment. Lucky for me this didn't happen. In the morning when I woke up and wanted to go for breakfast a big branch closed the way to get out of the bungalow..
By the way - nothing happen to anyone. Only some people woke up. 
The number of volunteers is rising too. This week two new girls arrived. In total there are now: 3x Australia, 2x Holland, 1x Denmark, 1x Japan, 1x German, 1x Luxembourg (me).
Furthermore this weekend was time to say good bye to Salvador, an spanish biologist who is specialist in insects especially butterflies. I met him first 2013 and with him Taricaya was now still the same. Hope he has a good flight back. Happy to spend two weeks in Taricaya with him :) 
Ohh and there is a new baby Spider monkey arriving today! 
---
We had two ringing activities. One at the old place called "New Farm". There we caught 3 new birds for me: Dusky-throated Antshrike, Grey-headed Tanager a bamboo specialist Goeldi's Antbird.
After the 3rd ringing activity at the same place we have to move  the nets to another place. Rachel decided to try another place in the bamboo area some meters more west of the last station. We had only a few birds. We caught a Blue-crowned Motmot and Fork-tailed Woodnymph (new for me).
While we had only a few birds in the nets we decided to have a walk at the beach where we found some tracks of deer's, caimans, storks, turtles and of a big Puma. 
For the next ringing activities we're looking forward to maybe ring at a swamp place, on the canopy and on the beach. Already excited for this! 
---
Every weekend I'm excited to read the news of Laura who is spending now 3 months in Costa Rica. The rest of the time I'll spend my time with her to travel in South America. Have a look at her blog!